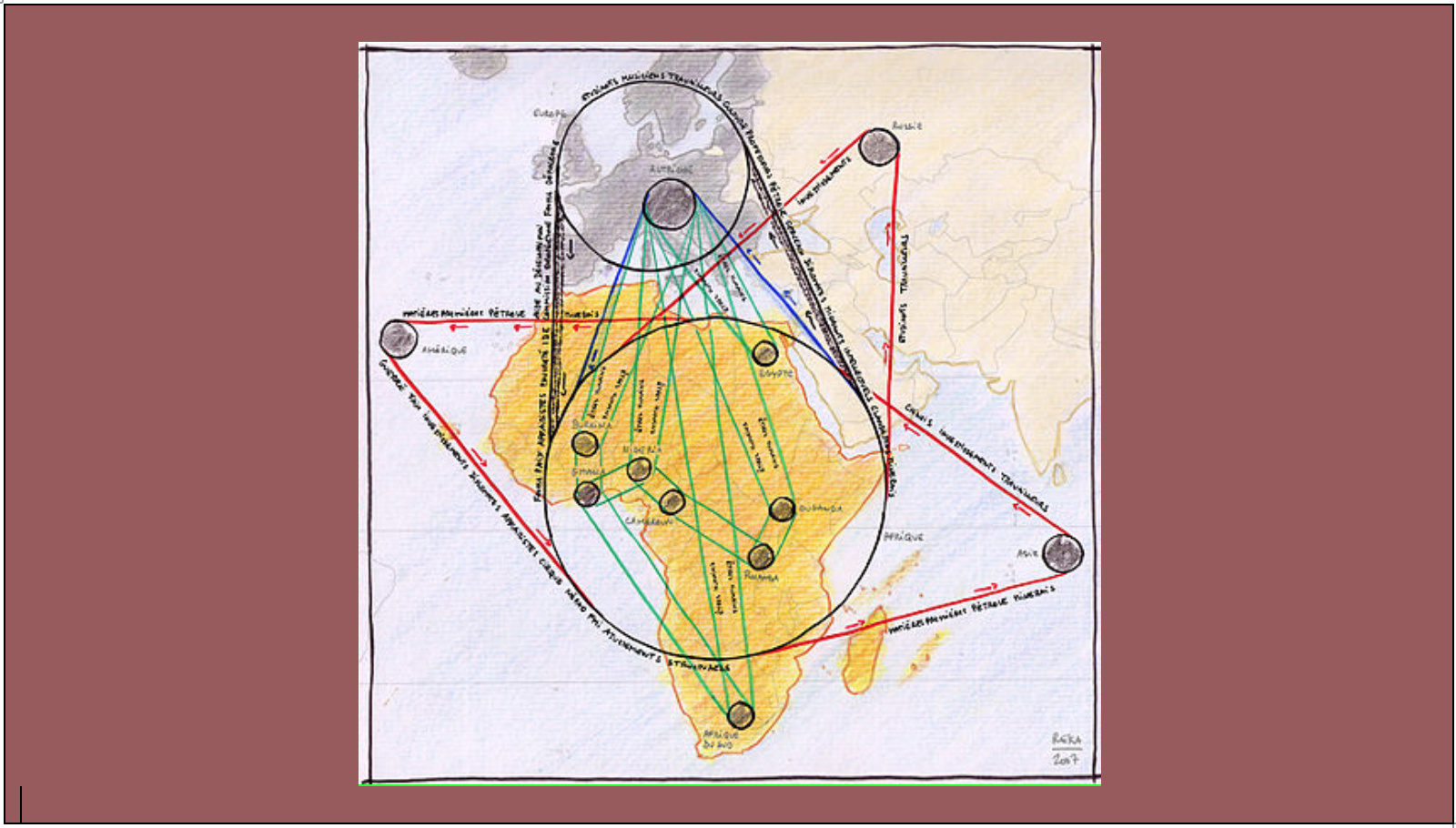 Image "Grande roue" - Author: Philippe Rekacewicz / visionscarto.net
Sustainable development requires innovative strategies, new conceptual and practical tools and holistic policies.
We provide students with a theoretical, empirical and practical understanding of global social, economic and environmental change, equipping them with skills and knowledge to promote sustainable local development in the context of globalization.
We employ a pioneering approach comparing innovative strategies in the Global South as well as in the Global North, while focusing on the worldwide circulation of development strategies.
Program content
This Master in International Development Studies is designed for students with a strong background in social sciences and an interest in addressing development issues critically.
A general introduction to international debates on development theories, discourses and policies forms the basis for addressing major challenges to sustainable local development from theory to practice. Multi-level case studies all around the world are used to discuss conceptual, practical and ethical issues of contemporary development programs and projects. We cover fields such as poverty reduction, migration, natural resource management, transformative social innovation, local economic development and disaster risk reduction.
The program comprises one year of post-graduate studies (60 ECTS), starting in September. It consists of 9 interactive courses followed by an internship within a host organization and the writing of a Master's thesis.
Check the courses and teaching methods' description to get more detailed information.

Program calendar
September to February:
We suggest the students, if possible to come to Grenoble at the end of August - beginning of September in order to set up the administrative procedures.
The first two weeks of September, the former IDS students are presenting their Master thesis and the new students are kindly invited to the oral defenses.
The academic year starts around the 10th of September with a one-day "kick-off meeting" during which we give you all the important information for the year. We provide as well practical information during summer.
The semester starts a week later. During that week the official administrative admissions take place and you will have time to settle in Grenoble.
In September, we will go the IUGA rural campus CERMOSEM which hosts us for some days and we will profite to visit sustainable projects in the Ardèche region.
March to September:
The courses in Grenoble finish at the end of February and from March onwards IDS students start their 3 to 5 months internship.
Master thesis defenses will take place at the beginning of September, in Grenoble or via Skype.
For further information, please contact: Cristina Del Biaggio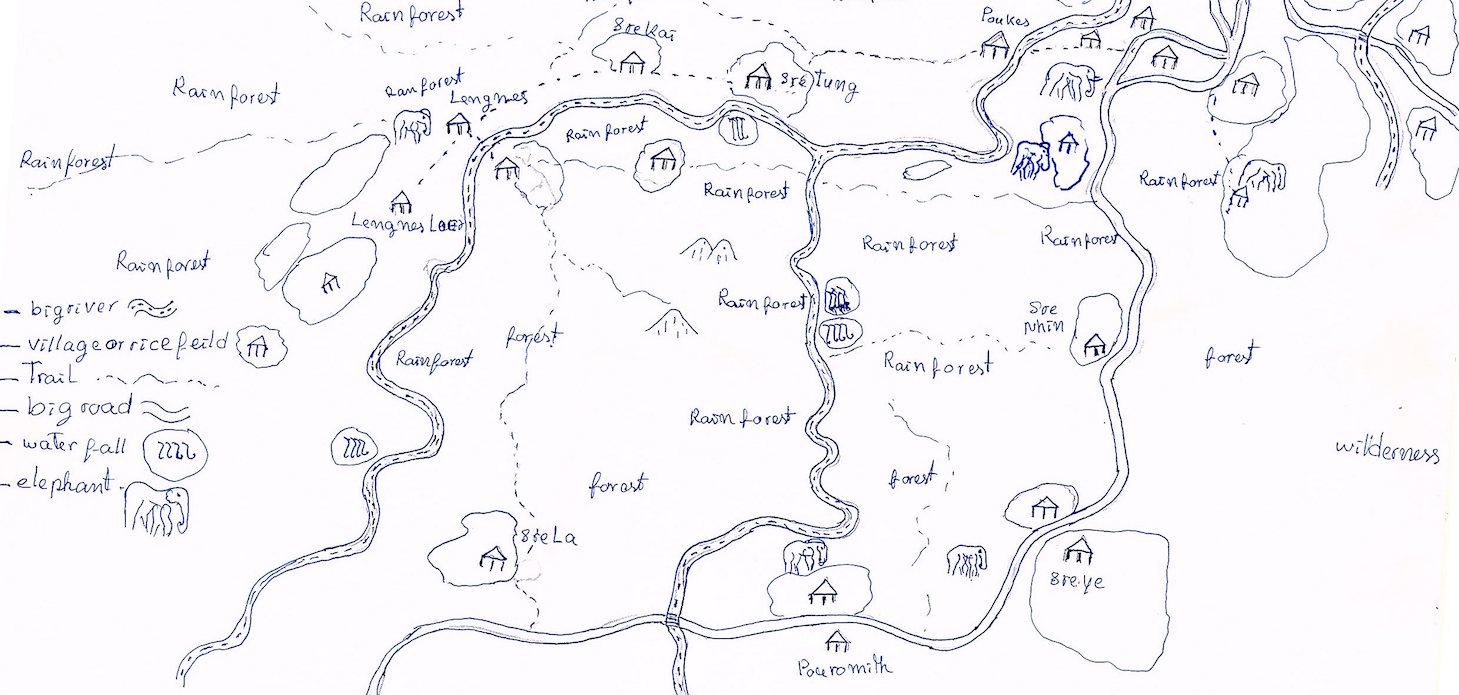 Map of Cambodian rainforest (detail) - Author: Mony Hong
Career opportunities
Our rapidly changing world has a growing need for professionals with international experience, able to formulate innovative policy proposals. Our students will find employment in the fields of development cooperation and regional/local planning, within government departments and agencies, supranational and multilateral development organizations, non-profit organizations, as well as in the corporate sector.

We also actively support students wishing to continue with a PhD thesis.
Most of the teaching staff is conducting research in the research centre in social sciences called Pacte. Have a look at the Pacte website to get more info.
Admission requirements
Applicants should have a minimum qualification equivalent to four years of university studies (240 ECTS). All applicants are expected to have a solid background in social sciences (e.g. geography, regional planning, anthropology, sociology, economics, political science, international relations, development studies). Applicants with a professional background in development cooperation are also welcome.

Applications will be carefully evaluated by the admissions committee to assess the quality of each application.

As students must be able to read textbooks, understand lectures, take part in classroom discussions and undertake written work in English, they must be able to demonstrate English B2 (upper intermediate) language proficiency:
TOEFL score of at least 87 (internet based)
IELTS score of at least 5.5 (internet based)
Cambridge/Oxford Proficencies
Advanced Certificate of Proficiency
A degree from a university where English is the language of instruction
French students are legally exempted from these proficiency certificates. Their English language knowledge will be evaluated by the admission committee.
Documents required for the application:
Copy of ID/passport
Copy of last diploma
Motivation letter
CV in English
Reference letter(s)
English test (see below)
Transcript of records
How and when to apply
If you apply via e-candidat, application deadlines for the academic year 2020-2021:
First session: From 10th February to 8th April 2020
Second session: From 21st April to 24th May 2020
Third session (only for applicants who do not need visa to enter France): From 24th of August to 26th of August 2020
If you apply via Campus France, please check the deadlines on the
Campus France website
.
Application and enrollment
further information
.
Due to the delays to obtain visas, candidates from outside European Union are strongly encouraged to apply as early as possible.
Apply online via the
eCandidat platform
.
The new eCandidat platform has not been completely translated into English, please refer to the document "
eCandidat - guide for applicants
" that will guide you through the platform.
Non EU-students coming from a country belonging to the PEF ("Plateforme pour les études en France", i.e. Center for Studies in France) have to apply directly via the
PEF platform
. They do not need to register via the eCandidat platform.
Please note
: It is the
country of residence
and not the nationality that determines the procedure to be chosen (eCandidat or PEF)!
PEF countries are: Algeria, Argentina, Benin, Brazil, Burkina Faso, Cameroon, Chile, China, Colombia, Comoros, Congo, Côte d'Ivoire, Egypt, Gabon, Guinea, India, Indonesia, Iran, Japan, Lebanon, Madagascar, Mali, Mauritania, Mauritius, Mexico, Morocco, Peru, Russia, Senegal, Singapore, South Korea, Syria, Taiwan, Togo, Tunisia, Turkey, United States, Vietnam.
Important
: Indicate that this program is a Master 2 (M2), otherwise Campus France cannot take your application into consideration!
Please note that there is a fee to apply via CEF; this fee is applied to the cost of the visa.
Admission fees
For the academic year 2020-2021, the Université Grenoble Alpes will not apply any admission fees increase.
The amount of the fees will be about 250 EUR for the academic year. Extra costs to be considered: 100 EUR/year for compulsory fieldtrips.
Scholarships
There are several different funding sources available to qualified international students in degree-seeking programs. Please check the funder's website for details about who is and is not eligible.

The call for applications to Master Scholarships.